Martina's trip to Rome
13 August 2013
There are only a few cities in the whole world that combine breath-taking historical sites with amazing food and great access – but Rome is one of these places you just have to fall in love with!
Martina was lucky enough to explore this wonderful city for four days on an inspection visit with Leading Hotels of the World.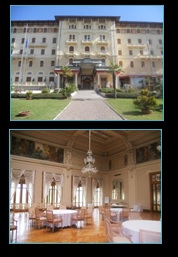 PALAZZO DELLA FONTE
This amazing five star retreat is situated in the old spa town of Fiuggi. The impressive building boasts 152 bedrooms, an amazing spa, tennis courts, an outdoor pool and a beautiful banqueting hall called Salone delle Feste, that can hold private dinners for up to 280 guests. One floor down and still with lots of natural daylight you will find the Sala Congresso which is a versatile, light room without pillars that can take up to 400 delegates in a theatre layout.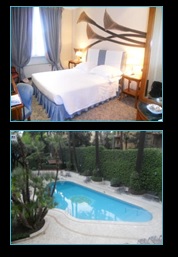 ALDROVANDI HOTEL VILLA BORGHESE
The Aldrovandi Hotel is a luxury five star property located close to Villa Borghese, a large park in Rome, located in a very nice and upmarket area.
The hotel has 106 bedrooms, some of them overlooking the beautiful parkland, as well as a top-end 2 Michelin Star restaurant – one of the best restaurants in town!
The hotel boasts a beautiful outdoor pool located within the amazing gardens, as well as an area that can also be hired for private functions, and the Caprini Room which can take up to 400 delegates.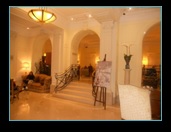 HOTEL EDEN
Close to shopping and all the sites, Hotel Eden is a great hotel for smaller incentives. The largest meeting room is the Salon Borghese which can take up to 90 delegates in a theatre layout. There are 121 bedrooms, a private courtyard and a small fitness room.
All these spaces were impressive but it is the Terrazza Bar and Restaurant on the 6th floor that will really take your breath away!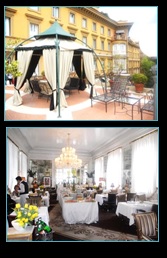 HOTEL MAJESTIC
This five star property, famous for 'La Dolce Vita', boasts luxurious bedrooms as well as a stunning banqueting room called Giuseppe Verdi with a fresco ceiling and original marble floor. This space can take up to 150 guests for a cocktail reception.
The best feature of Hotel Majestic must be the restaurant with its wonderful outdoor terrace. The terrace can be hired exclusively for up to 120 delegates. We are off to see more sights and some of us get very lucky and end up in a horse carriage that chauffeurs us to our next stop – the famous Hotel Hassler!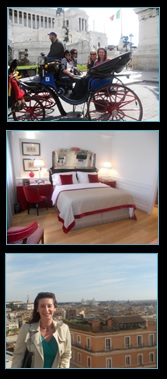 HOTEL HASSLER
Probably one of the most famous and stunning hotels in Rome, this property has hosted lots of celebrities, including Prince Charles and Princess Diana. The hotel is located above the famous Spanish steps and when you come out of the front door you literally do have beautiful Rome at your feet!
The rooms and bathrooms are very spacious and the hotel has conference facilities for up to 120 delegates. The ideal residential group for the Hassler would be between 20 – 25 guests, so this is the place for a small high end incentive group or board meeting.
The 7th floor terrace offers amazing views over the city.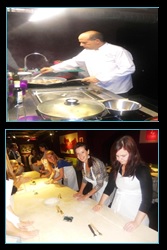 HOTEL DE RUSSIE
Our last hotel to visit is again only three minutes' walk away from the Spanish Steps. The hotel has been newly refurbished and the furnishings are bright and stunning. There are 120 bedrooms, 6 meeting rooms with the largest taking up to 90 theatre style, a flower shop, a spa with 6 treatment rooms and best of all a really beautiful garden that has direct access from the bar, the restaurant and some of the function spaces.
We finish our evening here with a delicious dinner in the Jardin de Russie Restaurant – great food and excellent service. The next morning we enjoy a fun teambuilding activity with Chef Fabio – after grocery shopping in the Jewish Quarter we learn how to make our own pasta!
After our delicious homemade lunch it is now time to say arrivederci to this stunning city and we do leave with a lot of happy memories and new ideas for our clients. Experience La Dolce Vita yourself!