Oman - The secret jewel of the Middle East
21 August 2013
 If you have been to Dubai with your delegates Oman is your next destination. It is no wonder that Muscat is increasingly becoming an attractive destination for incentives and conferences, as Heather discovered on a recent trip.
Muscat, the capital city of Oman lies sparkling white, topped with golden minarets in the middle of a maze of brown pleated mountains reaching down to the Arabian Sea. Described as "Arabia's jewel", this city is a blend of the old and the new. Muscat is green as green can be, and defies being classified as part of a desert country. The roads are lined with well-manicured green lawns and trees. During winter this is interspersed with a profusion of multicoloured flowers. The city has steadfastly retained its old-world character. Old Muscat has a quaint charm about it with many forts, castles, mosques and towers doting the landscape. Of particular note are Jalali and Mirani forts flanking Al Alam Palace. The Corniche, with its promenade and souqs (markets) is one of the highlights of the city. The old souq of Muttrah is an ideal spot to buy keepsakes and treasures. Greater Muscat boasts high-rise business properties (but not too high), world-class highways, upscale suburbs rooted in traditional Islamic architecture, elegant mosques, large green parks, archaeological sites, museums and world-class hotels.
Day 1 – After a swift passport control we were greeted by Bahwan Travel and transferred to the 5 star Grand Hyatt Hotel, 25 minutes from the airport.  The hotel can accommodate up to 800 theatre layout/ 350 classroom layout and has 280 bedrooms.
Our next stop was the 5 star Ritz Carlton Al Bustan Hotel 35 mins from the airport. The hotel has a total of 200 rooms and very good conference facilities with an auditorium with a capacity for 628 people and a ballroom that can seat 450 (classroom) and 1,200 (theatre).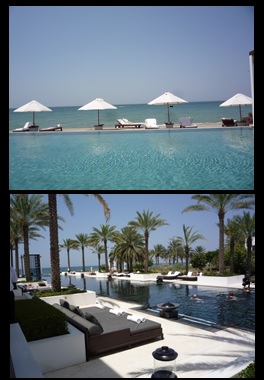 We then proceeded on to the Chedi Hotel, a Leading Hotel of the World. This hotel Is situated closer to the airport, 15 minutes drive away and 20 minutes drive to Old Muscat. This is Oman's first contemporary hotel and only 10 years old. Located on its own private beach and offering 3 swimming pools, including an infinity one. It also has tennis courts, 800sq Spa and Health Club.
The hotel is only suitable for incentives. It has three small meeting rooms. Visit finished with a fantastic lunch in their main restaurant.
After  lunch we departed for a tour of Muscat. Our first stop was at the magnificent Al Alam Palace. We followed with a brief visit to the Muttrah Souq for some shopping therapy!
After spending a few Omani Rials we headed towards our last hotel visit, the Shangri-la Hotel. The Shangri-la Resort consists of 3 hotels within the same complex: Al Husn (The Castle),is the most exclusive of the three hotels. It has 180 rooms, 100 metre private beach infinity pool. The resort also has a wonderful 1,000 seat outdoor amphitheatre that is great, not only for team building activities but also for outdoor cocktail or dinners. The resort has its own marina and diving centre. We finish our day with a wonderful Moroccan dinner at the Shahrzad Restaurant located at the Al Husn Hotel.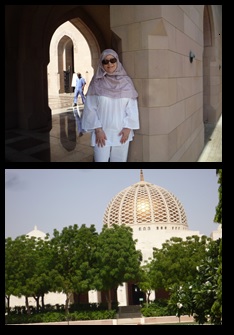 Day 2 – After an early breakfast we departed for a visit to the Grand Mosque, which is one of the largest mosques in the world with beautiful art work, the most spectacular chandelier and a carpet in the main prayer hall measuring approximately 4,300 sq m (included in the Guiness book of records). The hall is square with a central dome rising 50 m above the floor and can take up to 6,500 worshippers.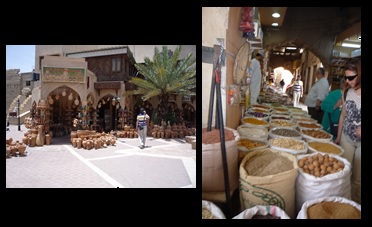 After the Mosque's visit we departed towards Jabel Shams, "Moutain of the Sun". On the way we stopped in Niziwa (1.5 hours drive from Muscat). Niziwa was the original capital of Oman and one of the oldest cities in the country. It has a Fort that took 12 years to complete and Souq famous for its handicraft and agricultural products.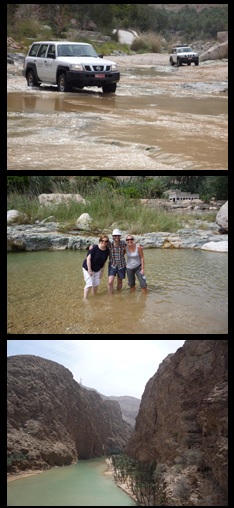 After Niziwa we continued towards the mountains via the Wadi Ghul, where we enjoyed a little bit of Wadi bashing and photo shooting!
After another 1.5 hours drive through some spectacular scenery we arrived at Jabel Shams, the tallest peak in Oman at 3009 metres. The area is used for team activities and also ideal for trekking aficionados.
After lunch and a quick photo we returned to Musat. The drive takes 3 hours.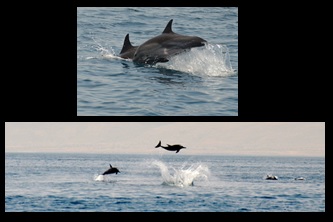 Day 3 – After breakfast and check out formalities we headed for Marina Bandar, main boat jetty in Muscat, to board our speed boat in search of dolphins.  After 1.5 hours we found them.
After our boat ride we arrived at Fins Beach, where we enjoyed a lovely swim. Lunch was waiting for us under a tent.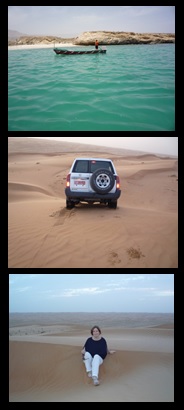 After lunch, we continued toward our final destination – the desert via Wadi Bani Khalid. We stopped at Sur, on the north east of Oman, on the coast of the Gulf of Oman. It offers excellent beaches and has a long history of dhow building. After this brief visit we boarded our jeeps again and headed towards our final destination – Wahiba Sand with its large ranges of sand dunes running from north to south and some of them 100m high! (I was very glad that we didn't try these ones!)
After checking in at 1000 Nights Camp we departed for a little bit of sand dune bashing with our experienced drivers. A very enjoyable experience. We then headed back for a shower and BBQ dinner at the camp. Our last night in Oman in the dessert.  The memory of  sleeping under the stars will stay with me forever!