The InterContinental Westminster
6 November 2012
A brand new InterContinental hotel is due to open its doors at the end of this month; the company's first hotel to open in London for over 36 years.
The InterContinental London Westminster was originally built as a hospital but given its location, was soon acquired by the government and became the home to the Treasury Solicitor. The hotel will inject a new lease of life into a building steeped in over one hundred years of history – the walls of Queen Anne's Chambers will be transformed with a fresh and contemporary outlook, whilst celebrating the tradition of its British heritage.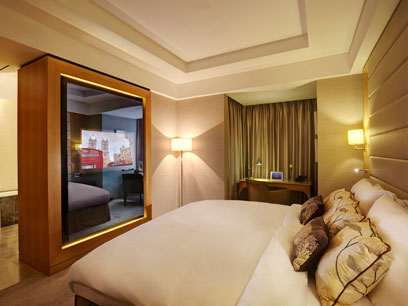 Spread across six floors, the hotel will feature 256 rooms including 44 luxurious suites and an imposing penthouse. It will house several exclusive pieces of art, all with links back to London and the hotel's history. All bedrooms will have separate sink in baths & walk in showers – encased in Marble, and will be some of London's largest hotel bedrooms, starting from 28 Square Metres. Modern facilities such as electric black out blinds, inbuilt media hubs with the latest technology and espresso machines will also be available in all rooms.
Meetings wise, the hotel will boast 7 separate event rooms for up to 200 delegates. Each meeting room will be furnished to a decadent, modern high specification and will include espresso machines, touch control lighting, heating & sound and the meetings floor comes with an onsite audio visual technician to assist throughout any meeting or event.
The Intercontinental Westminster will also be home to 'Blue Boar Smokehouse', which will take inspiration from the best American pit masters, with a menu evolving around authentic smoke house techniques, whilst maintaining its British influence. On site charcoal and smoking ovens will produce rustic dishes served in a modern way, classic comfort food using great British produce in a restaurant formed of one busy central chamber and leading to private dining for those intent upon not being seen or overheard.

The Intercontinental Westminster is due to open at the end of this month (November 2012).
For more information call us on 0208 543 5117